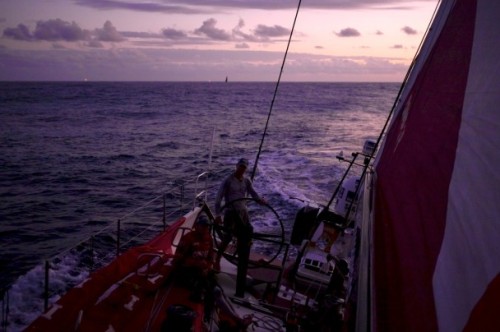 VOLVO OCEAN RACE – The night's biggest mover and shaker PUMA have stolen the lead from CAMPER, who had survived the heart stopping "bang" and explosion of a tack line to hold the lead, before losing it to Ken Read's men.
PUMA Ocean Racing powered by BERG climbed to second place at 0100 UTC, clocking up more miles in the past 24 hours than anyone else in the fleet, some 306 nautical miles to CAMPER's 278, before finally breaking into the lead by 1.3 nm at 0700 UTC. Abu Dhabi Ocean Racing were in third place, trailing by 8.2 nm, Team Telefónica gained in fourth, trailing by 24 nm and Groupama sailing team were 38.4 nm in the wake of the fleet in fifth place.
PUMA Media Crew Member Amory Ross said the team were revelling in their fast track middle lane, with Mar Mostro clocking up "easy miles" in the flat seas.
"Life on deck is quiet, calm, and dry, and you begin to see the potential in these boats when they're hitting their stride,'' he said. "A puff hits and instead of heeling over, they accelerate rapidly; 16, 17, 18, 19 knots…it doesn't take much to make the numbers climb. MORE STORY