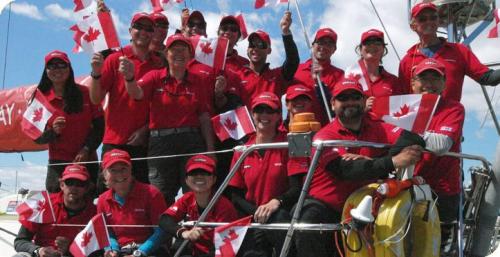 CLIPPER RACE – The Royal Nova Scotia Yacht Squadron in Halifax has been a hive of activity today with all ten entries in the Clipper Round the World Yacht Race arriving after completing Race 12, from New York to Halifax.
Gold Coast Australia claimed victory in Race 12, their tenth of the campaign while Visit Finland and Welcome to Yorkshire respectively bagged the final two podium positions.
Scottish entry, Edinburgh Inspiring Capital went one better on their result into New York during Race 11 and finished fourth, just seconds before Singapore in fifth. New skipper, Piers Dudin, leading the Scottish team to their best finish of the race so.
This 600-mile sprint from New York has been one of the most tightly fought races yet with around a minute separating fourth and sixth place.
New York had to settle for sixth place with Nova Scotia resident, Roberto Sani, being welcomed by friends and family on the pontoon.
"Race 12, leaving New York and arriving in Halifax was obviously unbelievable. For me personally, coming home was what I've been waiting for, for the last nine months!" explained Roberto, who has raced over 36,000 miles during the Clipper 11-12 Race.
The Company Director will complete a circumnavigation of the world once New York crosses the Race 15 finish line in Southampton.
Geraldton Western Australia crossed the finish line in seventh place while De Lage Landen narrowly beat Qingdao to eighth.
The mad dash to the Race 12 finish was made even more frantic by very light and variable winds which halted the fleet's progress towards the line. Unfortunately Derry-Londonderry's battle against a foul tide and no wind made their race to the line almost impossible and the team have since accepted tenth position. Derry-Londonderry arrived at the Nova Scotia Yacht Squadron at 1945 local time (1045 GMT).
The Clipper Race fleet will be berthed at the Royal Nova Scotia Yacht Squadron until Friday when Race 13, to Derry-Londonderry, gets underway.
Race 12 Results
1. Gold Coast Australia Finished at 05:31:22 GMT 11/06/2012
2. Visit Finland Finished at 10:42:05 GMT 11/06/2012
3. Welcome to Yorkshire Finished at 11:12:31 GMT 11/06/2012
4. Edinburgh Inspiring Capital Finished at 12:56:32 GMT 11/06/2012
5. Singapore Finished at 12:57:11 GMT 11/06/2012
6. New York Finished at 12:57:50 GMT 11/06/2012
7. Geraldton Western Australia Finished at 13:07:33 GMT 11/06/2012
8. De Lage Landen Finished at 13:50:11 GMT 11/06/2012
9. Qingdao Finished at 13:58:27 GMT 11/06/2012
10. Derry-Londonderry Finished at 17:50:00 GMT 11/06/2012