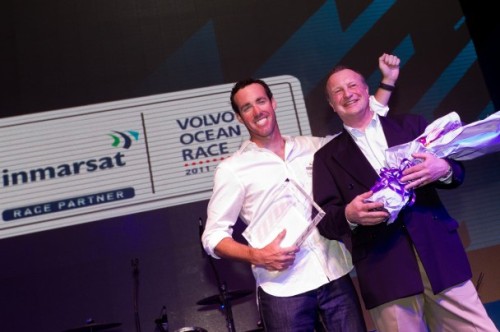 HOTLINK – PUMA's Amory Ross has been awarded the Inmarsat Media Crew Member Award for Leg 3 after another outstanding set of work from Ken Read's boat.
Ross's work with the PUMA Ocean Racing powered by BERG team first came to the Award judges' attention in Leg 1 as he captured the amazing story of his crew's unscheduled trip to the remote island of Tristan da Cunha in the mid-Atlantic.
The boat had to take refuge there after breaking her mast but Ross made the most of the situation with a string of superb video diaries, one of which was later used on the top American TV programme, The Today Show.
His work on Leg 3 included a live interview with UK Minister for Universities and Science David Willetts and the EU's Vice President of the European Commission, Commissioner for Enterprise and Industry, Antonio Tajani.
"British satellite technology is enabling one of the world's most exciting yachting events to be broadcast globally to millions of smartphones and computers," said Willetts. "This is testament to the continued success of the UK space industry and innovative companies like Inmarsat." MORE STORY