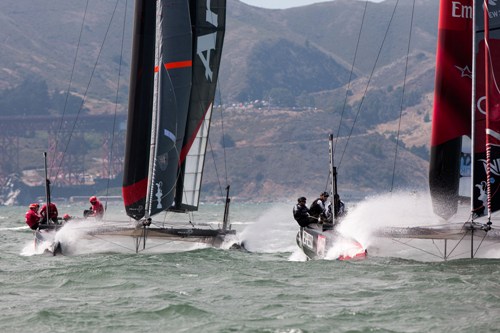 AMERICAS CUP UPDATE – Featuring a new team, more boats and more sailors the second season of the America's Cup World Series is scheduled to begin Wednesday, Aug. 22, at ACWS San Francisco.
The entry list of eight teams includes Artemis Racing (SWE), China Team (CHN), Emirates Team New Zealand (NZL), Energy Team (FRA), J.P. Morgan BAR (GBR), Luna Rossa Challenge 2013 (ITA), ORACLE TEAM USA (USA) and Team Korea (KOR).
The fleet now numbers 11 boats with Artemis Racing, Luna Rossa Challenge and ORACLE TEAM USA each fielding two crews, and the return of China Team. At this regatta there are 55 sailors competing from 12 countries.
"With a new team, more boats and more sailors, ACWS San Francisco should be an outstanding regatta," said America's Cup Regatta Director Iain Murray. "The racecourse will certainly be more intense than we've seen before, and the consistent strong winds and current-driven chop will keep the competitors on their toes. We've already seen a few capsizes in training, but we know everyone will be on their game when the starting gun fires."
The first day of the new season will see six of the teams contesting a series of match racing qualifiers with the three winners advancing to the Quarterfinal Round, scheduled Thursday and Friday, where they'll meet the top five seeds based on the standings from the 2011-12 ACWS Match Racing Championship.  MORE STORY