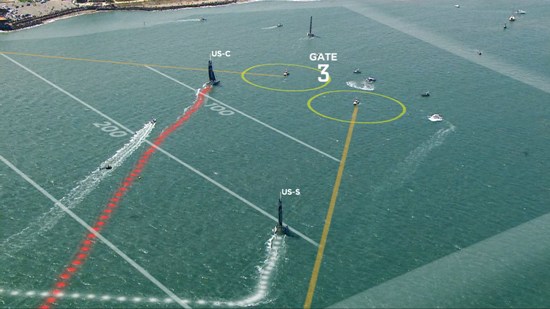 AMERICAS CUP  – The America's Cup World Series' first and second seasons delivered eight completed regattas in front of millions of fans whether onshore or online around the world.
The America's Cup World Series features the best sailors in the world racing the fastest boats. The teams from Sweden, Great Britain, China, New Zealand, France, Italy, Korea and the U.S. feature skippers such as Russell Coutts, Jimmy Spithill, Ben Ainslie, Dean Barker, Chris Draper, Loïck Peyron, Nathan Outteridge and Max Sirena. This group of sailors has won the America's Cup, Olympic gold medals, world championships and non-stop circumnavigation races. They are at the top of the sailing pyramid.
They race the AC45, a 45-foot long catamaran with an 85-foot tall wing sail that features performance characteristics which allow the craft to race at twice the windspeed. These boats are roughly half the scale of the boats that will sail the Louis Vuitton Cup and the America's Cup in 2013 which will be contested in extreme performance AC72s.
From startup to global phenomenon, the America's Cup World Series has delivered positive-growth results at eight highly successful regattas in Europe and the USA. The last three events attracted approximately one million spectators with racing staged just off the shoreline; the television graphics package won an Emmy Award for outstanding technical achievement; and knowledge of the America's Cup has reached new heights.
"Everywhere we've taken the AC World Series the response has been positive," said Stephen Barclay, CEO of the America's Cup Event Authority. "Whether it's the champion sailor who's changing his/her opinion about catamaran racing or the new fan who's simply taken in by the speed, athleticism and close racing, the ACWS has been successful in delivering positive-growth results."
Some of the highlights of the past year include:
More than 250 million global television audience
An average of one million US viewers at the three American races
Nearly 12 million YouTube views
Nearly 7 million visitors to the America's Cup website
Nearly 2.5 million spectators on-site at regattas (including San Francisco Fleet Week 2012)
173 races over 44 days, with 43 days' racing completed on schedule
1 Emmy Award
"We couldn't have been more thrilled with the stellar production of the America's Cup World Series event in San Diego that aired Live for five consecutive days on our network in November," said Comcast SportsNet California Vice President and General Manager Larry Eldridge. "The addition of new, ground-breaking virtual graphics that helped visually explain distances and strategies also significantly enhanced the viewer experience. The coverage of the final Sunday fleet race was fantastic and full of the kind of drama never normally seen so up close in sailing."
"The summer of racing that lies ahead stands to be very exciting for TV and on-site fans of the America's Cup and very physical for the sailors," said Barclay. "The next America's Cup may come to represent some of the most fantastic racing ever seen on an America's Cup course."
2012-13 America's Cup World Series Season Championship (after 2 events) Team (Skipper) – Total
1. ORACLE TEAM USA SPITHILL (Jimmy Spithill) – 165 points
2. Luna Rossa Piranha (Chris Draper) – 121
3. Artemis Racing – White (Terry Hutchinson) – 120
4. J.P. Morgan BAR (Ben Ainslie) – 116
5. Team Korea (Peter Burling) – 105
6. Energy Team (Loïck Peyron) – 102
7. Emirates Team New Zealand (Dean Barker) – 100
8. ORACLE TEAM USA COUTTS (Russell Coutts) – 98
9. Artemis Racing – Red (Nathan Outteridge) – 90
10. Luna Rossa Swordfish (Iker Martinez) – 71
11. China Team (Phil Robertson) – 43