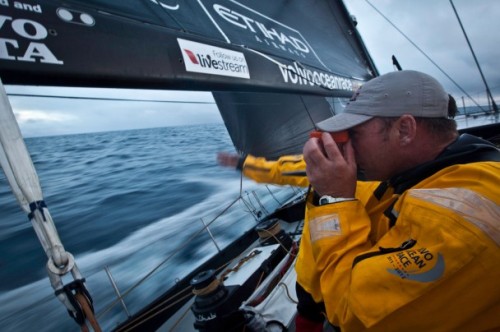 VOLVO OCEAN RACE – Ian Walker's fifth placed Abu Dhabi Ocean Racing are considering a change in strategy as they pick their way carefully through light winds to the south of the pack after losing out to CAMPER at the last position report
Only eight nautical miles off the lead of the now compressed fleet, Walker said he was pleased to be still in the mix as the teams approach the turning mark in the Azores, but confessed to being irked by losing fourth to CAMPER.
"Whilst it is nice to have all the boats in sight I can't say I have enjoyed watching CAMPER sail up and around us," Walker said. "It's not the first time in this race we have seen their potency upwind.
"Everyone is jockeying for position as we sail into the corner of the high pressure. The wind has been as light as five knots but right now it has filled back in again to nine knots and we are all moving well."
Walker said he was very aware of how important it was to stay in touch with the leaders as he expected them to begin to extend once the fleet turn right at São Miguel island.
Now furthest south of the fleet, Walker said he was considering switching strategies and driving even further towards an expected left-hand wind shift.
"Our plan was to stay just north of everyone but we haven't been able to hold our height and we now find ourselves pretty much the southernmost boat," he said. "Maybe we will have to drive off for the shift instead, whilst hoping we keep enough wind speed."
With an intense low set to cross the fleet's path on the second section of the leg from the Azores to Lorient, Walker said the Emirati team were ready for some big breeze action in the next 24 hours. MORE STORY