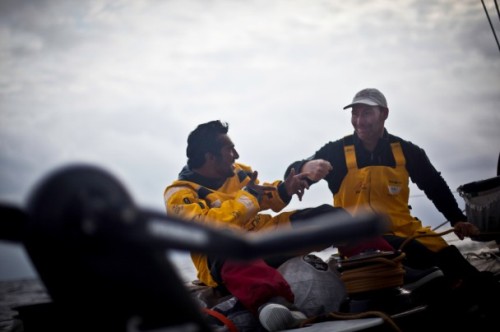 VOLVO OCEAN RACE – At 1900 GMT, Ian Walker's Abu Dhabi Ocean Racing were still leading Leg 7 of the Volvo Ocean Race from Miami in the United States to Lisbon in Portugal, but it is a nervous time for the Emirati team as the fleet dig into their margin, which grows smaller with every position report.
As Walker himself predicted earlier, the fleet is compressing and now is no time for complacency.
PUMA Ocean Racing powered by BERG in second, are reeling in Abu Dhabi hour by hour as the chasing pack rides the front, clicking off the miles to the finish later this week.  Tonight at 1900 GMT, PUMA had gained another seven miles in past three hours and had closed to within 56.10 nautical miles (nm) by averaging a boat speed of 22.9 knots, nearly two knots faster than Azzam and the fastest in the six-boat fleet.
CAMPER with Emirates Team New Zealand were clinging onto third place, gaining four miles on the leader and lying 22 nm astern of PUMA.  But only seven miles astern of PUMA were Mike Sanderson and Team Sanya, hungry for a podium finish and only sailing .4 of a nautical mile slower than PUMA.
In turn, Sanya is being pushed by Groupama, two miles astern, and overall leaders, Iker Martínez and Telefónica are six miles behind the French as the racing hots up across the fleet.
The next 1,000 miles will be a drag race straight towards the finish, but before victory is theirs, Abu Dhabi Ocean Racing has to traverse a light air ridge for about 12 hours. Abu Dhabi's need for speed is to enable them to reach the light air patch 100 or so miles from the finish in Lisbon in first place. MORE STORY