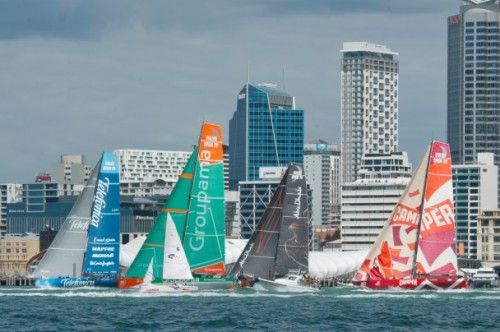 VOLVO OCEAN RACE – Abu Dhabi Ocean Racing set an early pace in Auckland winning the practice race on Thursday.
Ian Walker's team saw off overall race leaders Team Telefónica, Leg 4 winners Groupama sailing team and CAMPER with Emirates Team New Zealand in the non-scoring warm-up for Friday's Pro-Am race and Saturday's In-Port Race.
Team Sanya missed the practice race as they await the late arrival of new rigging, while PUMA Ocean Racing powered by BERG opted to spend the afternoon sail testing.
Leg 5 starts on Sunday, March 18 at 1400 local time (0100 UTC).
Prior to the leg start, the Pro-Am racing begins at 1200 local time on Friday, March 16, with the In-Port Race taking place at 1400 local time on Saturday, March 17.