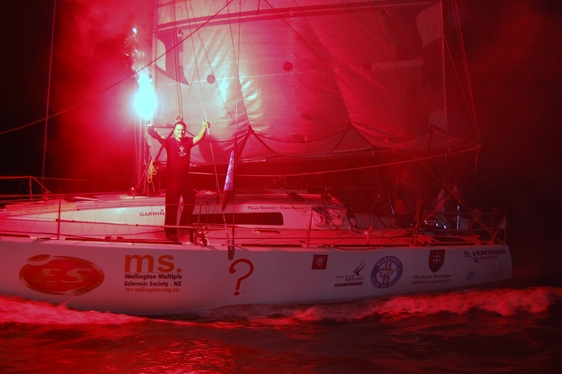 GLOBAL OCEAN RACE – The Italian-Slovak duo of Marco Nannini and Sergio Frattaruolo crossed the Global Ocean Race (GOR) Leg 4 finish line at 04:22:59 GMT (00:22:59 local) with their Akilaria Class40 Financial Crisis securing second place just under 24 hours behind the Leg 4 winners, Conrad Colman and Scott Cavanough with Cessna Citation. Nannini and Frattaruolo took 29 days 10 hours 22 minutes and 50 seconds to complete the 5,700-mile course from Punta del Este, Uruguay, to Charleston, South Carolina.
Crossing the finish line at pace with flares blazing, Nannini and Frattaruolo were welcomed into the United States and congratulated by supporters, including the Honorary Consul of Italy, Sergio Fedelini, as they docked in the Charleston Harbor Resort & Marina. "It's always a pleasure to finish every leg of the Global Ocean Race and getting here in second place is fantastic," said 33-year-old skipper, Marco Nannini, shortly after the dockside champagne celebrations.
The duo crossed the line chasing Cessna Citation hard and finished under one day behind Colman and Cavanough's  latest generation Akilaria RC2, but Nannini's goal was clearly defined before starting Leg 4 in Punta del Este: "We always had the aim to beat the other two first generation Akilaria Class40s in the fleet and we're really happy to have succeeded," he confirms. As Financial Crisis crossed the finish line, Sec. Hayai holding third place was 72 miles from Charleston with Phesheya-Racing in fourth a further eight miles from the finish.
For Nannini's co-skipper, 43-year-old Sergio Frattaruolo, GOR Leg 4 was the first experience of offshore Class40 racing and his first sail with Marco Nannini: "It was a beautiful experience being on a Class40 with Marco who is a very good skipper and joining up with a round-the-world skipper has been a real honour," says the former Mini Transat sailor from Bologna. "I really hope we can get second place again on the final leg of the race heading to France," he adds.
For both sailors, Leg 4 was considered a 'light' leg: "This leg weather-wise was extremely easy," says Nannini. "Apart from the first few days when we had some big winds, it has been really easy conditions," he confirms. "However, this does make sure every boat pushes to the limit to stay ahead and makes for a very tactical race, so it doesn't make it easier – it can sometimes make it tougher."
As Nannini and Frattaruolo tucked into fresh food at the Charleston Harbor Resort & Marina, the Dutch duo of Erik van Vuuren and Yvonne Beusker on Sec. Hayai had 49 miles remaining to the finish line at 08:00 GMT on Wednesday with Nick Leggatt and Phillippa Hutton-Squire 16 miles behind the Dutch team with Phesheya-Racing.