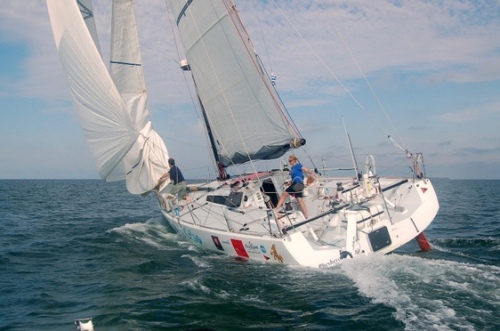 GLOBAL OCEAN RACE – After ten days at sea, the Global Ocean Race (GOR) fleet has found relatively stable breeze and the race is on to the Celox Sailing Scoring Gate off Natal on the coast of Brazil.
GOR leader, Cessna Citation, dug into the easterly breeze early on Wednesday morning and around 24 hours later, Marco Nannini and Sergio Frattaruolo in second place on Financial Crisisbegan to pick-up speed at midnight Wednesday/Thursday, followed by Phesheya-Racing in third and Sec. Hayai in fourth approximately four hours later.
For Conrad Colman and Scott Cavanough on Cessna Citation, the early break into the easterlies has seen their lead grow dramatically by 60 miles in the past 24 hours and they now hold a lead of 191 miles over the chasing pack. Nannini and Frattaruolo have also extended their lead over Nick Leggatt and Phillippa Hutton-Squire on Phesheya-Racing with a 67-mile lead over the South African duo and the Dutch team on Sec. Hayai have dropped back four miles in 24 hours, trailing Leggatt and Hutton-Squire by 34 miles on Thursday afternoon.
While speeds have increased, three of the teams have been working hard to overcome potentially disastrous technical problems. On Cessna Citation, the Kiwi-Australian team had almost given up hope of repairing their hydrogenerator, which is lowered into the water from the transom for fuel-free battery charging, and a stop on the Brazilian coast and bunkering extra diesel to compensate for the loss of charging capability was firmly on the cards. MORE STORY