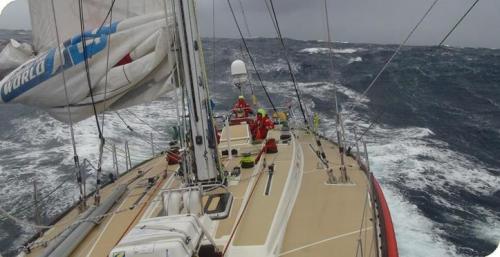 CLIPPER RACE – There's a good reason Popeye the Sailor has bulging forearms. Just ask Singapore skipper, Ben Bowley. Typing his report to the Race Office this morning he explains, "I have just come off an hour on the wheel and my fingers are shaking a little from all the adrenaline pumping through my blood vessels right now.
"We have just reduced sail plan once again as the breeze kicks back in from the north west.  For the last few hours while the wind was a moderately steady 35 knots of true, we had been enjoying almost continual speeds over 13 knots and Will Parbury managed a new speed record that should be pretty hard to top: 27.4 knots.  Regular forays into the high teens and low 20s have been the order of the day. Unfortunately, gusts of over 50 knots of true were proving too much for even the best helms to handle a double reefed main and Yankee 2. The lactic acid build up in my forearms is testament to that!"
As the leading teams break through the 1,000 miles to go barrier, undoubtedly giving the exhausted sailors a much needed boost, the Pacific Ocean continues to throw her challenges at them.
"As the sun has now set and we see the wind filling in for the night we have opted for a much more conservative sail plan," continues Ben. "The reason we had been flying the Yankee 2 in the first place is that this morning we noticed some nasty holes in the Yankee 3 where it had dragged across some broken hanks during setting it goose-winged. It was promptly dropped and our Mother Superior (Mererid) performed some excellent emergency surgery that should get us to Oakland at least.
"Varying wind strengths throughout the afternoon have kept our small crew very busy indeed.  We are down two crew members due to injury, which effectively leaves a total of eight people between two watches when you remove the day's mothers from the equation. As a result of this, all but the simplest of operations require both watches. There are some very sleepy heads aboard the big red bus today but we are determined not to let our second place slip this close to the end.  Timmy Tough pills all round chaps!"
And maybe a tin or two of spinach.  MORE STORY