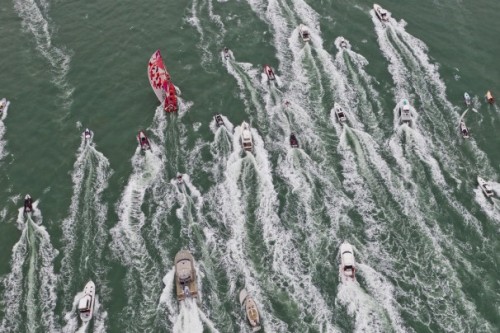 VOLVO OCEAN RACE – More than 47,000 people flocked to the city's waterfront to watch the arrival of the six boats at the end of the punishing 5,220 nautical mile leg from Sanya in China.
Hundreds of spectator boats hit the water over the course of the day in support of the round the world sailors, over one third of them Kiwis themselves returning home for the first time in months.
"It was an absolutely amazing welcome as expected," CAMPER with Emirates Team New Zealand co-skipper and local hero Stu Bannatyne said.
"Auckland certainly did not disappoint. It's awesome to come back here.
"It's the first time in 10 years the race has been here and I think it shows that the race should come here every time."
Despite finishing the leg in sixth place, fellow Aucklander Richard Mason, one Team Sanya's two Kiwi watch captains, was beaming as he stepped onto the dock to rapturous applause.
"It was a typical New Zealand welcome," he said. "Thousands of people out, and they were following us all the way down the coast too. It's been fantastic – really super cool."
The welcome blew away PUMA Ocean Racing skipper Ken Read, sailing into New Zealand with the Volvo Ocean Race for the first time.
"Holy smokes, that was a lot of people," Read said. "Clearly New Zealand is a sailing country.
"To say it's a pleasure to be here is a massive understatement, we can't believe the support."
Navigator Will Oxley, one of the few non-Kiwis on board CAMPER, still found a smile after his team were edged into fourth by Team Telefónica.
"We certainly put on a show and so did Auckland," he said. "It was amazing.
"Nowhere else in the world do you get a welcome like this."